"This is the nicest Uber I've ever been in…wow a Tesla" Yep, those were the first words from almost every one of my 59 rides last week. I have to agree. I love my Tesla. I love to share that love with my riders.
Summing up the first week as an Uber driver in Aspen… well, it ain't New York. FYI, yes, I did drive a cab in New York in the 80's and some things are the same and some things are very different.
The riders have been terrific (especially Cabo the Cocker Spaniel- what a cutie- sorry- no pix Cabo is shy). They've been a diverse crowd and that's what we expect in Aspen. Riders came from 5 Continents China, Colombia, France, Pakistan, Australia, Canada …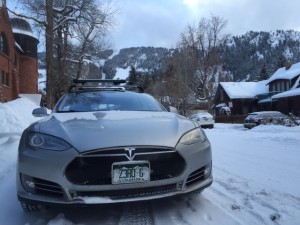 …. visitors from all over the USA, Floridians escaping the snowbirds, Texas Oil Company guys checking out the electric car, Los Angelenos doing the  last minute round trip to LA before Christmas , and many from my old stomping grounds- folks from NYC ("Have you eaten at Red Farm on Hudson?" "Yes!" "The oysters with Myer Lemon!" followed by a moment of silence as we both remember that appetizer.. which I tell you…is … oh my.)
So wait- what about the Tesla in the snow you say? My 2013 Model S isn't all wheel and the roads have been pretty darn slick. Yep, I need to channel my 1960's driving style and slow down a bit and use a little more caution but this is by far the best rear wheel drive vehicle I've ever driven. In fact that's a quote from one of my riders as we were driving on Owl Creek road "This is the best rear wheel drive car I've ever been in."  That it is.
I've made trips to Eagle Airport and Beaver Creek when the planes were delayed. Thank you to my very patient riders who opted to wait for a recharge in Glenwood Springs at the Tesla Supercharger.
The major difference between driving in NYC and Aspen? Well, while the car is recharging at the Rio Grande garage I can ride the gondola for a top to bottom on Ajax with a quick stop to grab a coffee and strudel at Bonnies  and then go back to driving.
Look for the Z3RO-G plates – your Uber Tesla in Aspen.